I'm shutting down my kitchen website, so I'm going to move over some of my favourite posts to this blog for future reference. :)


Starting with this one about how to make easy, tasty bread in a very short time and minimal amount of work.


--------


I joined a mama forum recently which has really inspired and excited me in many ways. One of the very first things I stumbled on was a delicious looking artisan bread recipe - which, of course, I had to try.


It originally came from a book called Artisan Bread in Five Minutes a Day by Jeff Hertzberg, MD and Zoe Francois (shown here on the right). Knowing how much I love the smell of fresh bread, I did as much research as I could on the experience and gave it a go.

There are two locations online that I referenced as I was learning all about this bread and how it could possibly be a success in our home. First of all, I checked the official website of the authors: www.artisanbreadinfive.com and then I was directed to t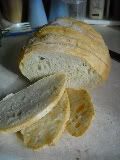 his website: www.motherearthnews.com which had a lot of amazing information!

I pulled out the Thatsa Bowl and started working. It was really easy and once the original rising period is over, you can pop it in the fridge to last for a few weeks - when you can just cut off a hunk of dough, shape into a loaf of whatever shape your heart desires, rise for 20 mins then pop in the oven to bake. It smells delicious, looks amazing and it is so deceptively easy! The picture to the left is actually MY loaf.

I highly recommend taking a look at the recipe and giving it a try. Easy. Tasty.And it makes your house smell awesome. What more can a person ask for?