I love to make gifts. I feel that effort in personalizing a present makes it extra special. Plus it allows me to indulge in my creative side, which I rarely get to tape into just because I don't have the time or space.

In the past, I've done things like flower pots, and altered canvases, some drink coasters, and one year I made a pillowcase covered with symbols representing the receiver.

This year, I'm sad that I'm not getting really into the creative side of gift giving. Usually I get a great idea and work on it. I just haven't felt inspired and it's kind of depressing.

Until I got a great idea off Pinterest for my ~7 year old niece whose name I got this year. I originally had thought of making her a tutu, but couldn't find enough tulle in a decent price range and was a little worried about the sizing, so it got dropped from my ideas. Then I saw the idea of making magnetic paper dolls and was sold.



The challenge then became real.
There are TONS of great sites full of paper dolls and their various fashions, but I noticed a trend which had me bothered greatly. The majority of them are little white 1950's style girls. There were little to none of any other ethnic group. I was really upset and thought my plans were foiled again.
You see - my Sister-in-law married a black guy and they have 5 gorgeous little, coffee toned, kids, including my niece. I didn't want to give her a package of little white dolls - I wanted to give her a collection of multi-ethnic dolls that encourage her to be who she is, that she can dress up like as if it was herself.
Then I stumbled onto an AMAZING website who has made some fantastic, non-stereotypical paper dolls. Rachel from PaperThinPersonas has done a great job to create a series of dolls she calls Marisole - whose skin tone and hair changes with each printable page (or can be coloured in yourself!) Every new post has a new series of clothing - ranging from historical to fantasy to everyday wear. I am so impressed.
She also has a series of a doll called "Curves" which is a larger shaped doll. Amazing.
On top of all this..... she's made her dolls completely free to download and print!
I'm busy colouring pages right now, which I will laminate with clear shelf paper and attach a magnetic sheet on the back. Apparently, you can buy sheets of magnetic paper from Staples that you can put through your printer to just print straight onto to save some work. (She has a whole collection of especially designed paper dolls just for magnetic printer paper!)
I applaud Rachel for her artwork, for breaking out of the mold of doll tradition, for providing options for children to play with dolls that better represent themselves and their ethnicity, while still having the tradition of dressing up a paper character. Thank you!
So, if you are looking for a great idea for a girl on your list.... check out PaperThinPersonas and have a blast creating a paper doll collection.
Are you handmaking some gifts this year? I'd love to see what you are up to!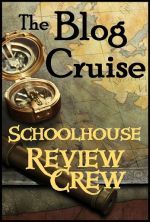 Tomorrow, you will find out more about me and the Schoolhouse Review Crew, but today I'm writing a blog post which I'll be linking up to a cruise (aka blog hop) on the subject of Christmas that will be live on Saturday the 15th. Feel free to check back then for some great posts by some other bloggers. :)